AIDS Memorial Quilt on display at CCGA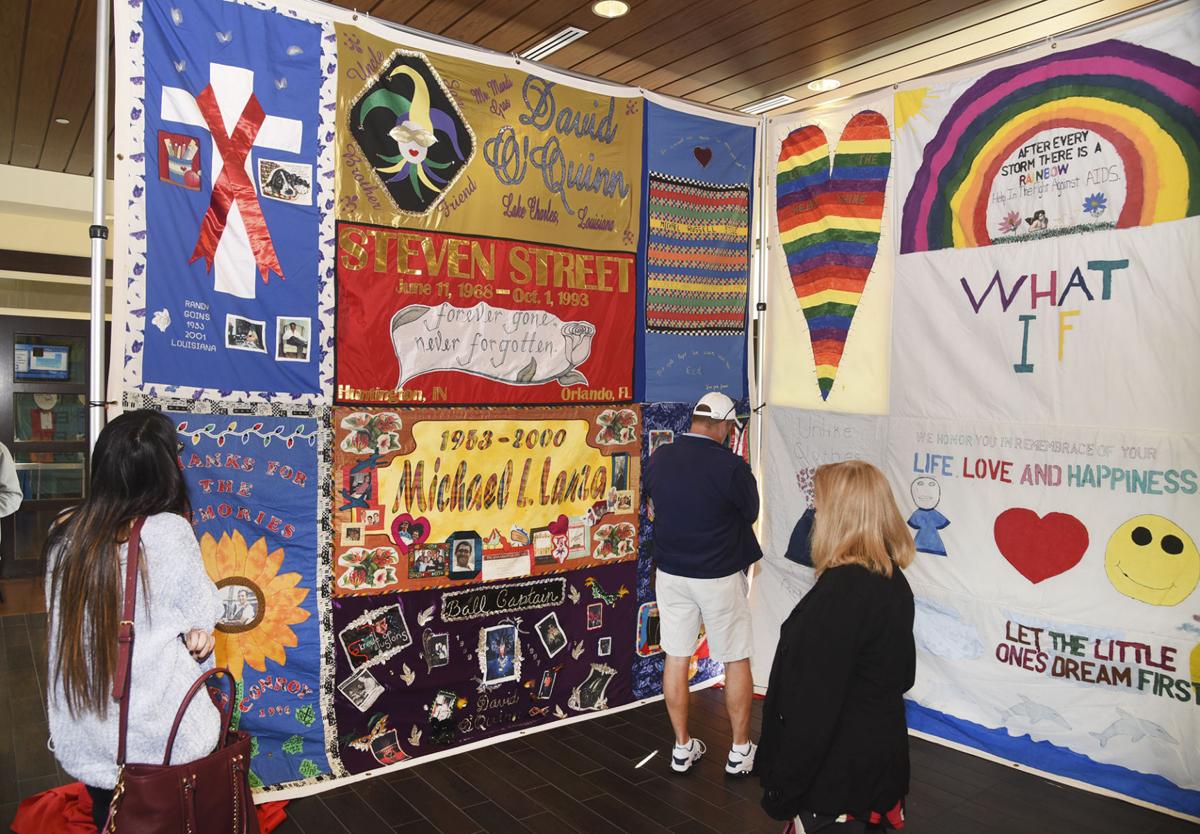 Despite strides made in treatment, a stigma continues to exist around AIDS and HIV, and millions have lost loved ones to the diseases.
To remember those lost, the NAMES Project Foundation, a nonprofit organization, preserves and displays the AIDS Memorial Quilt, parts of which are set up today at the Campus Center lobby at College of Coastal Georgia.
The entire quilt currently weighs about 54 tons, has more than 91,000 names and is the largest piece of community folk art in the world as of 2016. The United States Congress has designated it a national treasure.
In 1985, the idea for the quilt was conceived by AIDS activist Cleve Jones, when he taped signs with the names of loved ones lost to AIDS- related causes on a building during a candlelight march in San Francisco. The display looked like an enormous patchwork quilt, and the idea for the AIDS Memorial Quilt was born.
That same year, Derek Canas underwent surgery at the age of 3 months old, and he received a blood transplant from which he contracted the HIV virus. But doctors would not realize he was HIV positive for 15 years.
After the surgery, Canas had health issues that doctors attributed to a heart condition.
"For 15 years, every year, I got bronchitis and pneumonia," Canas said. "You could set a watch of when it would happen."
Canas was 16 when a medical student suggested that his health problems could be linked to the blood transplant he'd received at 3 months old.
Canas, a Brunswick resident, shared his story living with the disease with students at CCGA on Monday.
"I had survived 16 years undiagnosed," he told the students.
To rebuild his immune system, Canas underwent a 22-pill-a-day regimen, which eventually knocked the virus down to undetectable and noninfectious levels.
"I just want to encourage everybody to know their status," he said. "Getting tested is the biggest thing in the world."
Today Canas works as a DJ — known as "DJ D-Rek" — and as an AIDS activist. Several years ago, he began the "End the Stigma" campaign to bring awareness to the HIV/AIDS epidemic in the United States.
There are nearly 1.2 million cases of HIV in the United States, and 33 million cases worldwide, said Laura Veal, a nurse practitioner who spoke at the ceremony.
 The Coastal Health District, which includes Glynn County, saw one of the state's highest levels of newly diagnosed HIV/AIDS cases in 2012.
Veal, who handles HIV/AIDS cases at the Glynn County Department of Health, encouraged everyone to be open with their health care providers and to get tested.
"The health department is literally right down the block from you, if you ever want to get tested," she told the students. "Remember, it is anonymous. I know nothing in a small town like this feels anonymous, and I think that's a huge barrier in this population."
However, one in eight people living with HIV are unaware of their status, she said, so testing is crucial.
"This is a very preventable illness … It's a scary illness, but it's also very, very preventable," Veal said. "It's just kind of getting the word out."
The AIDS Memorial Quilt will be on display at CCGA until 6 p.m. today. Those who visit the display are encouraged to sign the remembrance book.
CCGA will also host an event on Dec. 1 where free, anonymous HIV/AIDS testing will be provided, in honor of World AIDS Day.
"Regardless of what the test says, you still keep living," Canas said. "Do not stop."
Join the Conversation